Volume and power buttons too sensitive on your spigen neo case?
The solution is easy
I was also very frustrated with too sensitive buttons with this case for my galaxy alpha. However the case itself is very well crafted and looks great!
My prior phone was the xperia V which did not had this problem. Unfortunately samsung put the
volume buttons to the left so every side has some buttons what makes it difficult tho grab the phone out of your packet without touching some buttons on it.
This is how they looks like originally: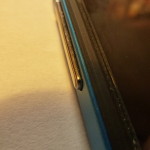 As you can see it pops out ca 1-1,5mm from the blue plastic frame. Because the buttons surface is huge compared to the phone's original button's surface one can accidentaly press the volume buttons and mute the call. The same is with the power button.
The solution is quite easy but it causes irreversible modification on the case so you have to think about it twice.
Fortunately you can easily remove the buttons from the colored plastic frame.:
After that you can sand them back with normal 320-400 grit sandpaper to the thickness that match with the frame. For a smooth surface you should finish the process with 6-800grit sandpaper.
The result looks like this: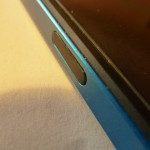 Enjoy!